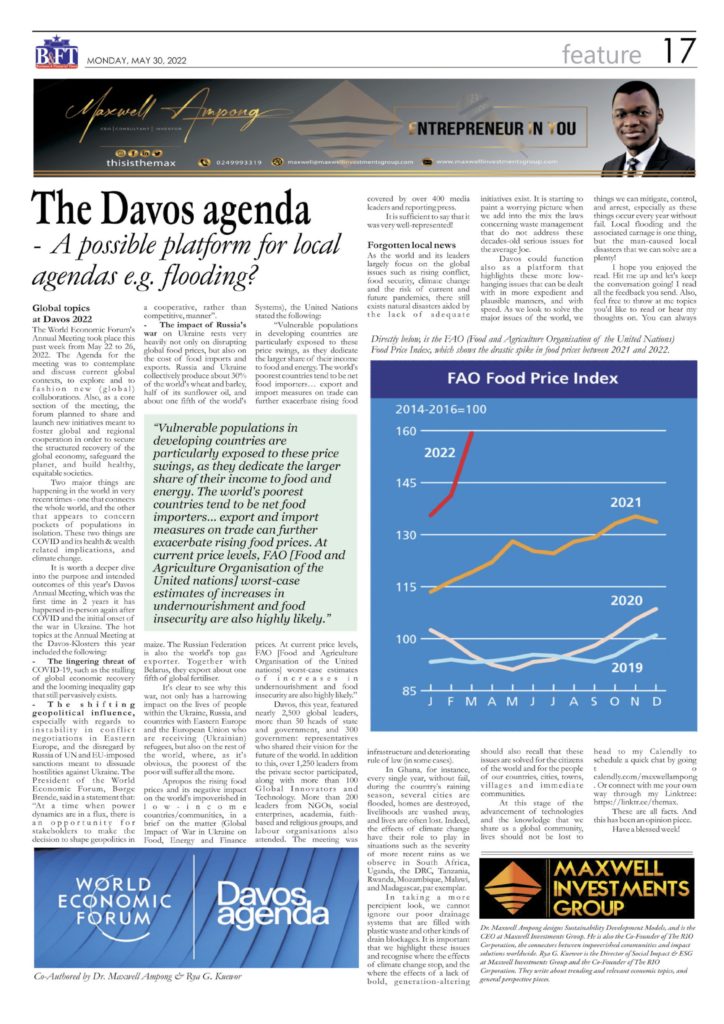 Co-Authored by Dr. Maxwell Ampong & Rya G. Kuewor
GLOBAL TOPICS AT DAVOS 2022
The World Economic Forum's Annual Meeting, took place this past week from May 22nd to 26th, 2022. The Agenda for the meeting was to contemplate and discuss current global contexts and explore and fashion new (global) collaborations. Also, as a core section of the meeting, the Forum planned to share and launch new initiatives meant to foster global and regional cooperation in order to secure the structured recovery of the global economy, safeguard the planet, and build healthy, equitable societies.
Two major things are happening in the world in very recent times – one that connects the whole world, and the other that appears to concern pockets of populations in isolation. These two things are COVID and its health & wealth-related implications, and climate change.
It is worth a deeper dive into the purpose and intended outcomes of this year's DAVOS Annual Meeting, which was the first time in 2 years it has happened in person again after COVID and after the initial onset of the war in Ukraine. The hot topics at the Annual Meeting at the Davos-Klosters this year included the following:
The lingering threat of COVID 19, such as the stalling of global economic recovery and the looming inequality gap that still pervasively exists.
The shifting geopolitical influence, especially with regards to instability in conflict negotiations in Eastern Europe, and the disregard by Russia of UN and EU imposed sanctions meant to dissuade hostilities against Ukraine. The President of the World Economic Forum, Børge Brende said in a statement that, "at a time when power dynamics are in a flux, there is an opportunity for stakeholders to make the decision to shape geopolitics in a cooperative, rather than competitive, manner."
The impact of Russia's war on Ukraine rests very heavily on disrupting global food prices, but also on the cost of food imports and exports. Russia and Ukraine collectively produce about 30% of the world's wheat and barley, half of its sunflower oil, and about one-fifth of the world's maize. The Russian Federation is also the world's top gas exporter. Together with Belarus, they export about one-fifth of global fertiliser.
It's clear to see why this war not only has a harrowing impact on the lives of people within Ukraine, Russia, and countries in Eastern Europe and the European Union who are receiving (Ukrainian) refugees but also on the rest of the world, where, as is obvious, the poorest of the poor will suffer all the more.
Apropos the rising food prices and their negative impact on the world's impoverished in low-income countries/communities, in a brief on the matter (Global Impact of War in Ukraine on Food, Energy and Finance Systems), the United Nations stated the following:
"Vulnerable populations in developing countries are particularly exposed to these price swings, as they dedicate the larger share of their income to food and energy. The world's poorest countries tend to be net food importers… export and import measures on trade can further exacerbate rising food prices. At current price levels, FAO [Food and Agriculture Organization of the United Nations] worst-case estimates of increases in undernourishment and food insecurity are also highly likely."
Directly below, is the FAO (Food and Agriculture Organization of the United Nations) Food Price Index, which shows the drastic spike in food prices between 2021 and 2022.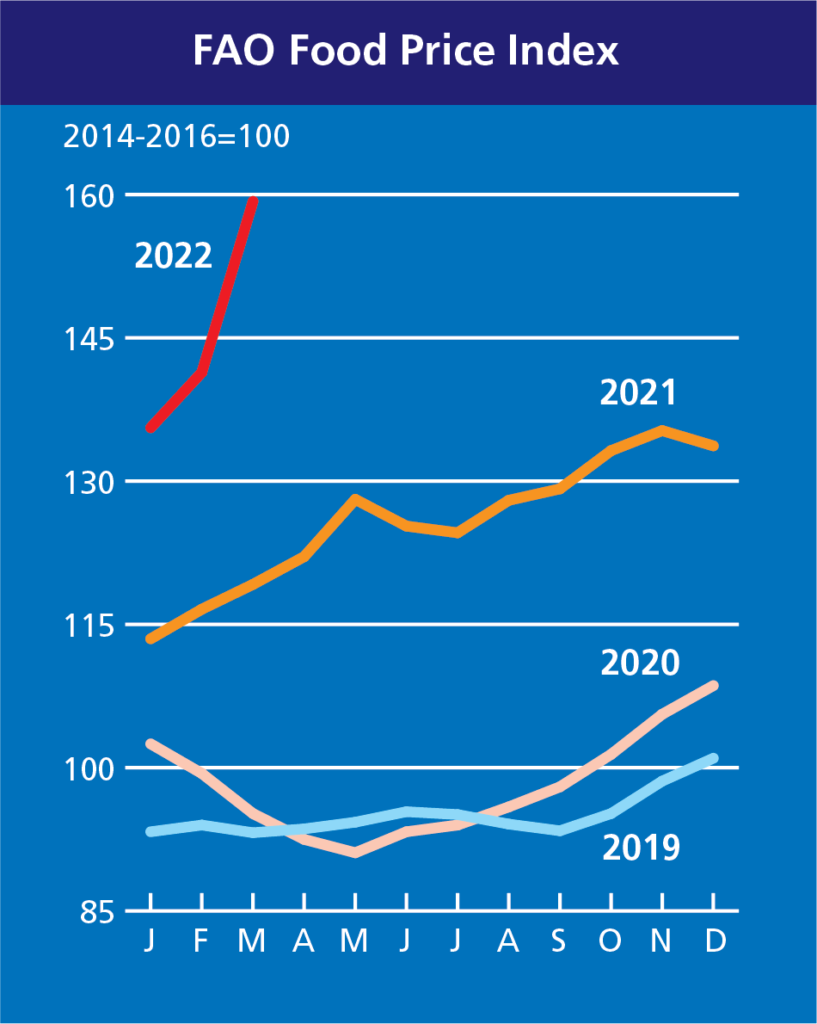 Davos this year featured nearly 2,500 global leaders, more than 50 heads of state and government, and 300 government representatives who shared their vision for the future of the world. In addition to this, over 1,250 leaders from the private sector participated, along with more than 100 Global Innovators and Technology. More than 200 leaders from NGOs, social enterprises, academia, faith-based and religious groups, and labour organisations also attended. The Meeting was covered by over 400 media leaders and reporting press.
It is sufficient to say that it was very well represented!
FORGOTTEN LOCAL NEWS
As the world and its leaders largely focus on global issues such as rising conflict, food security, climate change and the risk of current and future pandemics, there still exist natural disasters aided by the lack of adequate infrastructure and deteriorating rule of law (in some cases).
In Ghana, for instance, every single year without fail, during the country's rainy season, several cities are flooded, homes are destroyed, livelihoods are washed away, and lives are often lost. Indeed, the effects of climate change have a role to play in things such as the severity of more recent rains as we observe in South Africa, Uganda, the DRC, Tanzania, Rwanda, Mozambique, Malawi, and Madagascar par exemplar.
In taking a more percipient look, we cannot ignore our poor drainage systems that are filled with plastic waste and other kinds of drain blockages. It is important that we highlight these issues and recognise where the effects of climate change stop, and where the effects of a lack of bold, generation-altering initiatives exist. It starts to paint a worrying picture when we add into the mix the laws concerning waste management that does not address these decades-old serious issues for the average Joe.
Davos could function also as a platform that highlights these more low-hanging issues that can be dealt with in more expedient and plausible manners and with speed. As we look to solve the major issues of the world, we should recall also that these issues are solved for the citizens of the world and for the people of our countries, cities, towns, villages and immediate communities.
At this stage of the advancement of technologies and the knowledge that we share as a global community, lives should not be lost to things we can mitigate, control, and arrest, especially as these said things occur every year without fail. Local flooding and the associated carnage is one thing, but the man-caused local disasters that we can solve are aplenty!
I hope you enjoyed the read. Hit me up and let's keep the conversation going! I read all the feedback you send. Also, feel free to throw at me topics you'd like to read or hear my thoughts on. You can always head to my Calendly to schedule a quick chat by going to calendly.com/maxwellampong. Or connect with me your own way through my Linktree: https://linktr.ee/themax.
These are all facts. And this has been an opinion piece.
Have a blessed week!