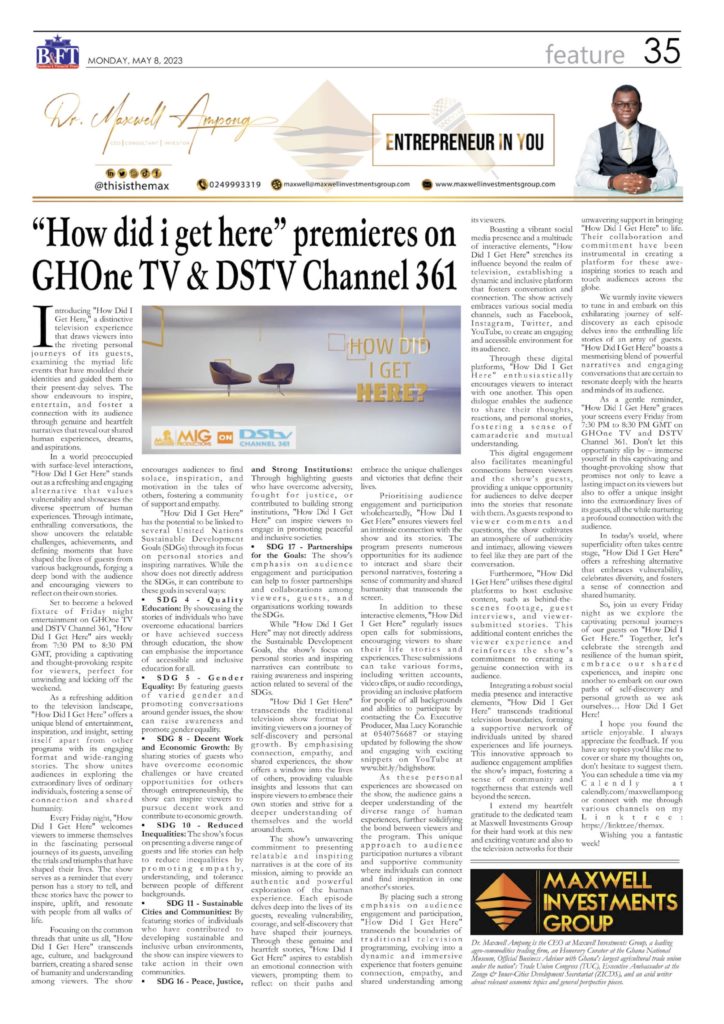 Introducing "How Did I Get Here," a distinctive television experience that draws viewers into the riveting personal journeys of its guests, examining the myriad life events that have moulded their identities and guided them to their present-day selves. The show endeavours to inspire, entertain, and foster a connection with its audience through genuine and heartfelt narratives that reveal our shared human experiences, dreams, and aspirations.
In a world preoccupied with surface-level interactions, "How Did I Get Here" stands out as a refreshing and engaging alternative that values vulnerability and showcases the diverse spectrum of human experiences. Through intimate, enthralling conversations, the show uncovers the relatable challenges, achievements, and defining moments that have shaped the lives of guests from various backgrounds, forging a deep bond with the audience and encouraging viewers to reflect on their own stories.
Set to become a beloved fixture of Friday night entertainment on GHOne TV and DSTV Channel 361, "How Did I Get Here" airs weekly from 7:30 PM to 8:30 PM GMT, providing a captivating and thought-provoking respite for viewers, perfect for unwinding and kicking off the weekend.
As a refreshing addition to the television landscape, "How Did I Get Here" offers a unique blend of entertainment, inspiration, and insight, setting itself apart from other programs with its engaging format and wide-ranging stories. The show unites audiences in exploring the extraordinary lives of ordinary individuals, fostering a sense of connection and shared humanity.
Every Friday night, "How Did I Get Here" welcomes viewers to immerse themselves in the fascinating personal journeys of its guests, unveiling the trials and triumphs that have shaped their lives. The show serves as a reminder that every person has a story to tell, and these stories have the power to inspire, uplift, and resonate with people from all walks of life.
Focusing on the common threads that unite us all, "How Did I Get Here" transcends age, culture, and background barriers, creating a shared sense of humanity and understanding among viewers. The show encourages audiences to find solace, inspiration, and motivation in the tales of others, fostering a community of support and empathy.
"How Did I Get Here" has the potential to be linked to several United Nations Sustainable Development Goals (SDGs) through its focus on personal stories and inspiring narratives. While the show does not directly address the SDGs, it can contribute to these goals in several ways:
· SDG 4 – Quality Education: By showcasing the stories of individuals who have overcome educational barriers or have achieved success through education, the show can emphasise the importance of accessible and inclusive education for all.
· SDG 5 – Gender Equality: By featuring guests of varied gender and promoting conversations around gender issues, the show can raise awareness and promote gender equality.
· SDG 8 – Decent Work and Economic Growth: By sharing stories of guests who have overcome economic challenges or have created opportunities for others through entrepreneurship, the show can inspire viewers to pursue decent work and contribute to economic growth.
· SDG 10 – Reduced Inequalities: The show's focus on presenting a diverse range of guests and life stories can help to reduce inequalities by promoting empathy, understanding, and tolerance between people of different backgrounds.
· SDG 11 – Sustainable Cities and Communities: By featuring stories of individuals who have contributed to developing sustainable and inclusive urban environments, the show can inspire viewers to take action in their own communities.
· SDG 16 – Peace, Justice, and Strong Institutions: Through highlighting guests who have overcome adversity, fought for justice, or contributed to building strong institutions, "How Did I Get Here" can inspire viewers to engage in promoting peaceful and inclusive societies.
· SDG 17 – Partnerships for the Goals: The show's emphasis on audience engagement and participation can help to foster partnerships and collaborations among viewers, guests, and organisations working towards the SDGs.
While "How Did I Get Here" may not directly address the Sustainable Development Goals, the show's focus on personal stories and inspiring narratives can contribute to raising awareness and inspiring action related to several of the SDGs.
"How Did I Get Here" transcends the traditional television show format by inviting viewers on a journey of self-discovery and personal growth. By emphasising connection, empathy, and shared experiences, the show offers a window into the lives of others, providing valuable insights and lessons that can inspire viewers to embrace their own stories and strive for a deeper understanding of themselves and the world around them.
The show's unwavering commitment to presenting relatable and inspiring narratives is at the core of its mission, aiming to provide an authentic and powerful exploration of the human experience. Each episode delves deep into the lives of its guests, revealing vulnerability, courage, and self-discovery that have shaped their journeys. Through these genuine and heartfelt stories, "How Did I Get Here" aspires to establish an emotional connection with viewers, prompting them to reflect on their paths and embrace the unique challenges and victories that define their lives.
Prioritising audience engagement and participation wholeheartedly, "How Did I Get Here" ensures viewers feel an intrinsic connection with the show and its stories. The program presents numerous opportunities for its audience to interact and share their personal narratives, fostering a sense of community and shared humanity that transcends the screen.
In addition to these interactive elements, "How Did I Get Here" regularly issues open calls for submissions, encouraging viewers to share their life stories and experiences. These submissions can take various forms, including written accounts, video clips, or audio recordings, providing an inclusive platform for people of all backgrounds and abilities to participate by contacting the Co. Executive Producer, Maa Lucy Koranchie at 0540756687 or staying updated by following the show and engaging with exciting snippets on YouTube at www.bit.ly/hdighshow.
As these personal experiences are showcased on the show, the audience gains a deeper understanding of the diverse range of human experiences, further solidifying the bond between viewers and the program. This unique approach to audience participation nurtures a vibrant and supportive community where individuals can connect and find inspiration in one another's stories.
By placing such a strong emphasis on audience engagement and participation, "How Did I Get Here" transcends the boundaries of traditional television programming, evolving into a dynamic and immersive experience that fosters genuine connection, empathy, and shared understanding among its viewers.
Boasting a vibrant social media presence and a multitude of interactive elements, "How Did I Get Here" stretches its influence beyond the realm of television, establishing a dynamic and inclusive platform that fosters conversation and connection. The show actively embraces various social media channels, such as Facebook, Instagram, Twitter, and YouTube, to create an engaging and accessible environment for its audience.
Through these digital platforms, "How Did I Get Here" enthusiastically encourages viewers to interact with one another. This open dialogue enables the audience to share their thoughts, reactions, and personal stories, fostering a sense of camaraderie and mutual understanding.
This digital engagement also facilitates meaningful connections between viewers and the show's guests, providing a unique opportunity for audiences to delve deeper into the stories that resonate with them. As guests respond to viewer comments and questions, the show cultivates an atmosphere of authenticity and intimacy, allowing viewers to feel like they are part of the conversation.
Furthermore, "How Did I Get Here" utilises these digital platforms to host exclusive content, such as behind-the-scenes footage, guest interviews, and viewer-submitted stories. This additional content enriches the viewer experience and reinforces the show's commitment to creating a genuine connection with its audience.
Integrating a robust social media presence and interactive elements, "How Did I Get Here" transcends traditional television boundaries, forming a supportive network of individuals united by shared experiences and life journeys. This innovative approach to audience engagement amplifies the show's impact, fostering a sense of community and togetherness that extends well beyond the screen.
I extend my heartfelt gratitude to the dedicated team at Maxwell Investments Group for their hard work at this new and exciting venture and also to the television networks for their unwavering support in bringing "How Did I Get Here" to life. Their collaboration and commitment have been instrumental in creating a platform for these awe-inspiring stories to reach and touch audiences across the globe.
We warmly invite viewers to tune in and embark on this exhilarating journey of self-discovery as each episode delves into the enthralling life stories of an array of guests. "How Did I Get Here" boasts a mesmerising blend of powerful narratives and engaging conversations that are certain to resonate deeply with the hearts and minds of its audience.
As a gentle reminder, "How Did I Get Here" graces your screens every Friday from 7:30 PM to 8:30 PM GMT on GHOne TV and DSTV Channel 361. Don't let this opportunity slip by – immerse yourself in this captivating and thought-provoking show that promises not only to leave a lasting impact on its viewers but also to offer a unique insight into the extraordinary lives of its guests, all the while nurturing a profound connection with the audience.
In today's world, where superficiality often takes centre stage, "How Did I Get Here" offers a refreshing alternative that embraces vulnerability, celebrates diversity, and fosters a sense of connection and shared humanity.
So, join us every Friday night as we explore the captivating personal journeys of our guests on "How Did I Get Here." Together, let's celebrate the strength and resilience of the human spirit, embrace our shared experiences, and inspire one another to embark on our own paths of self-discovery and personal growth as we ask ourselves… How Did I Get Here!
I hope you found the article enjoyable. I always appreciate the feedback. If you have any topics you'd like me to cover or share my thoughts on, don't hesitate to suggest them. You can schedule a time via my Calendly at calendly.com/maxwellampong or connect with me through various channels on my Linktree: https://linktr.ee/themax.
Wishing you a fantastic week!